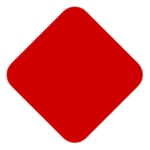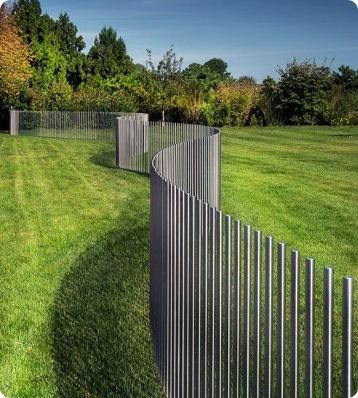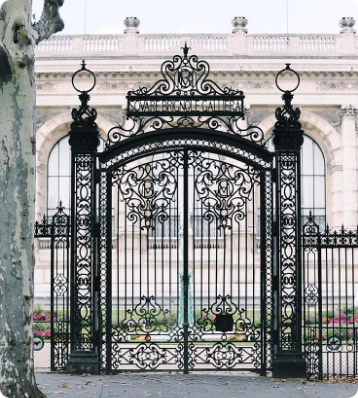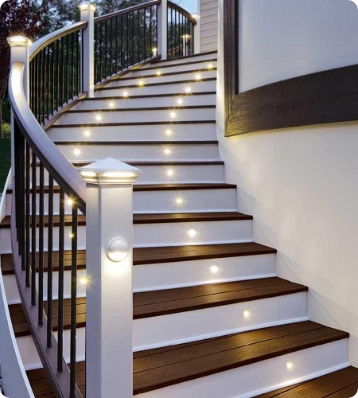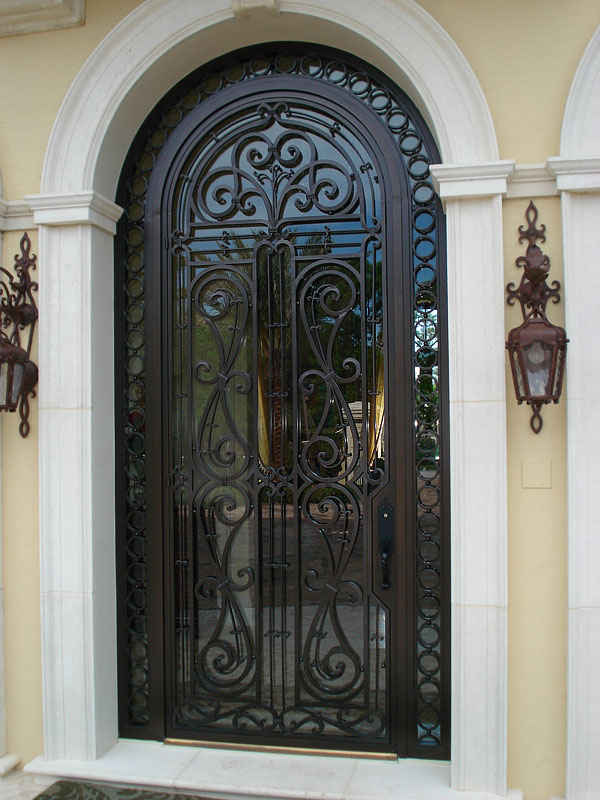 Continental Custom Iron uses an exclusive design for the FRONT ENTRY DOORS, which incorporates the elegance of forged iron, and the security offered by insulated heavy gauge tubular metal framing.
The design allows for an internal glass door set behind the wrought iron design that opens the exterior without compromising security. In addition, the door is fitted with a security doorknob that uses a double barrel lock. This way, the glass door can be left open unattended at any time.
We fabricate all types of main entry doors. Most intricate design patterns can be forged or fabricated to your specifications.
Our company fabricates any door shape to fit your main home entry. These popular door shapes can be fitted with lateral windows, separately or as part of the front door frame.
A home that is still using the usual security screen (covering the main entry door) is, unfortunately, losing a key element to the beauty of its facade.
The removable window screen that allows for air circulation is placed between the glass door and the wrought iron design. The doors are fitted with long-lasting weather strips to keep the interior safe from the elements.
The finishes on the door will speak of elegance and security at the entrance of your home.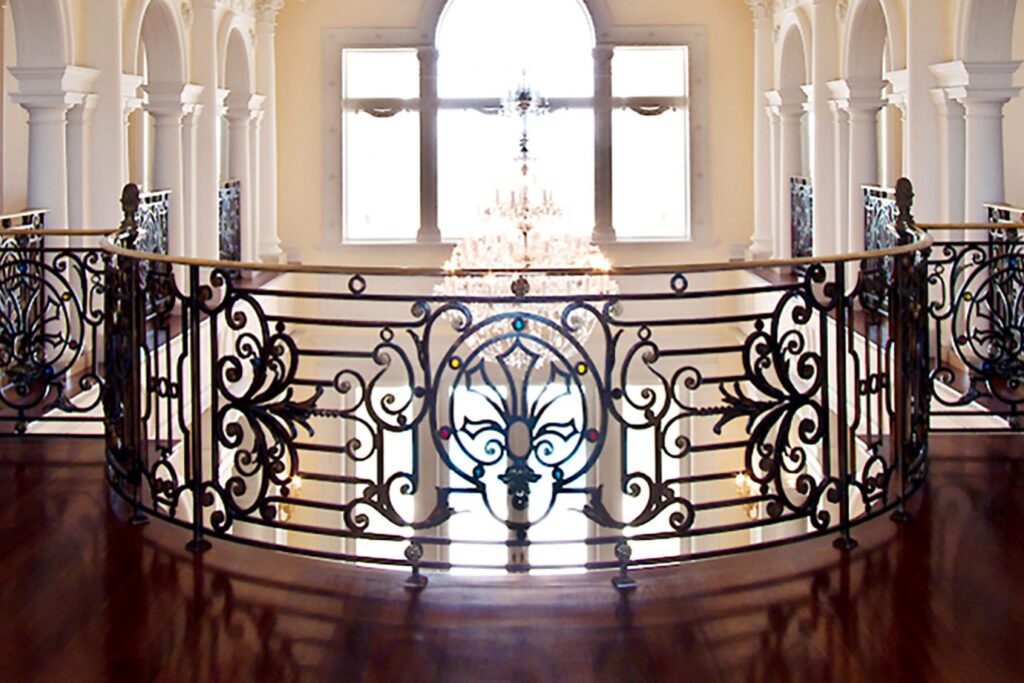 Make A Statement With Your Wrought Iron Fence
The fence you choose to have surround your property sends a message to passersby. For instance, a wrought iron fence marks your property with decadence, telling passersby that your home is accessible to few, but without the added intensity of a "Keep Out" sign. You keep out any intruders while presenting an enticing vision of your home—especially if you choose to have CC Iron accent your new fence installation.
We offer a range of the most popular indoor and outdoor fence designs, which can be modified to outfit your particular needs.
Whether you are looking for fencing for indoor spaces, security fencing, fencing for gardens, poolside, apartments, condos, properties, schools, or churches, we can provide you with excellent options. We can also design, forge, and fabricate almost anything you can dream up.
Whether you are seeking something basic or looking to create intricate designs, we can transform your vision into the best product for your specific needs.
Years of experience and craftsmanship guarantee you will be adding more than security.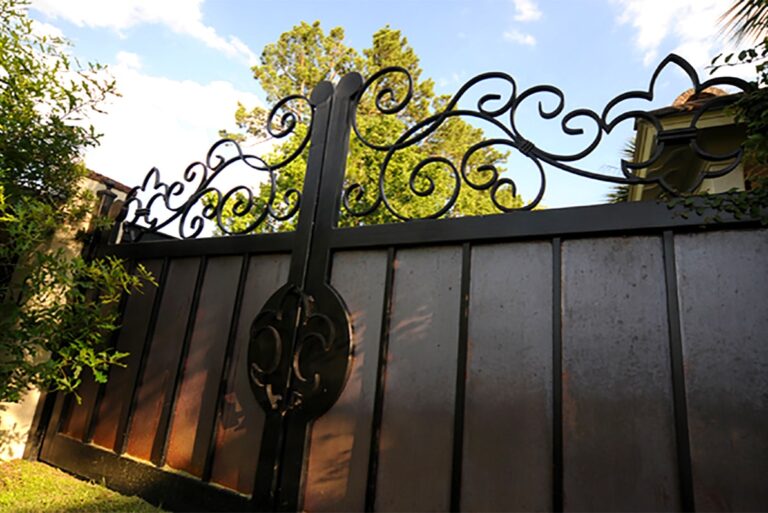 Continental Custom Iron aims to build lasting relationships with its clients. We bring decades of experience to each project, and work directly with the client to design, fabricate, and finish their dream metal-works.
Installing high-grade metal gates increases the security of your property, home, or business, giving you the luxury you always dreamed of with greater peace of mind.
Luxury metal gates last much longer than alternatives while adding elegance and beauty to your home or business.
We service private and commercial properties with the same commitment to detail and excellence in fabrication and installation.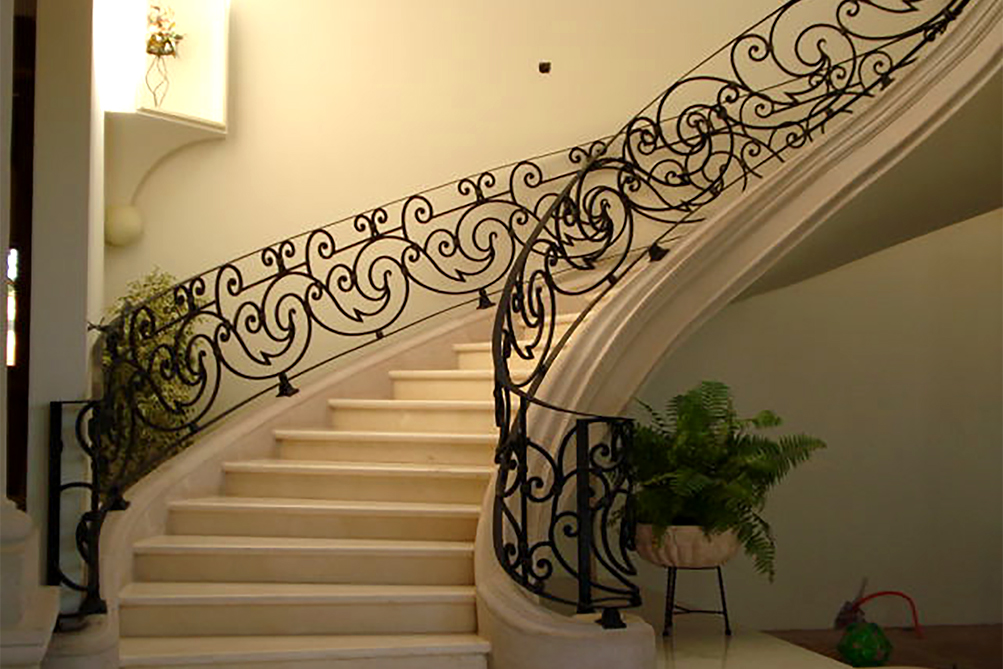 We have an extensive line of designs for your stair rails that can be applied to spiral stairs, curved stairs, and straight line stairs. We can modify and create new designs to capture your design feelings. Our aim is to create a stair rail that will make you feel proud to have it in your home.
You will immediately notice the elegance of forged iron surrounding the perimeter of your home. Our finished outdoor rails should not only complement, but bring out the beauty of your home for many years to come.